Discover the whole Starlike® EVO range
Litokol provides users and designers with an extraordinary solution
Starlike®EVO is the only product in the world that can be used in 3 different ways
Epoxy FILLER for grouting;
R-2T class ADHESIVE (improved reactive adhesive with no vertical slip);
Decorative wall SMOOTHER (with the Decor additive).
Unique and exclusive grouting effects
The Galaxy, Spotlight, Gold and Night Vision additives, when mixed as a third component with Starlike®EVO create unique and exclusive grouting effects.
A single translucent grout for all transparent and coloured glass mosaics
Two-component acid-resistant translucent epoxy grout for clear and artistic glass mosaics with joints up to 3 mm wide.
The new concept coloured translucent sealant that allows light filtering
Particularly recommended for mosaics with different shades of the same colour: The 5 available colours have been carefully studied to ensure colour consistency with mosaics featuring differing shades of colour.
Creative Spatulas
Creative spatulas is a space open to all Starlike applicators. Ideas can be found, advice can be offered to customers, always something new and why not do a little self-advertising too? Gaining access to this area is very simple.
Write to us at office@litokolchina.com and we will provide you with all the necessary information.
Installer: Mauro Bono, an expert installer that has completed theoretical and practical courses on Starlike® and Starlike® Decor at the Litokol training-center.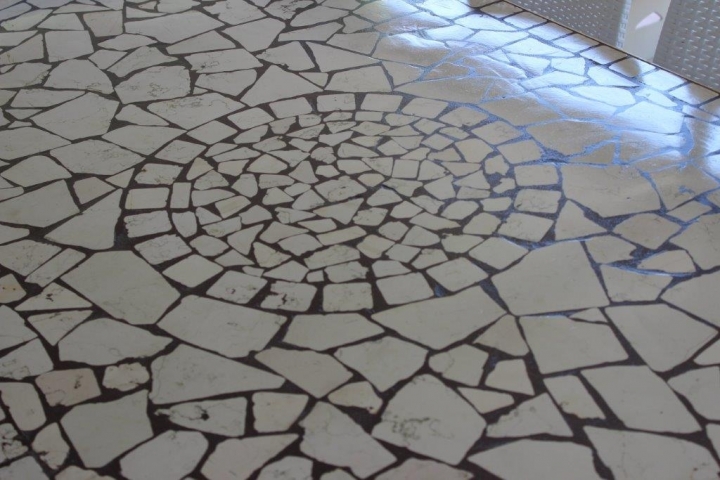 Two expert technicians created a customised outdoor table after having completed the flooring of a farm building in the hinterland of Rimini (Italy).
Starlike® EVO
LITOKOL Building Materials (Shanghai) Co., Ltd.
15/F, Room 1511, Guang Qi Centre –
No. 425 Yishan Road, Xuhui District
200001, Shanghai, PRC
Tel +86 21 5425 3588
Fax +86 21 5425 3288
E-mail office@litokolchina.com